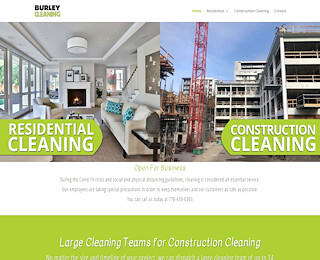 Best House Cleaner in Nanaimo
When it comes to keeping your home clean, not just any service will do. You want the best house cleaner in Nanaimo, and that's where Burley Cleaning comes into the picture. With an unwavering commitment to quality, flexibility, and customer satisfaction, we set the benchmark for residential cleaning services. This article aims to shed light on why Burley Cleaning stands out as the best option for house cleaning in the Nanaimo area.
Stringent Hiring Practices
At Burley Cleaning, the process to become a cleaner is anything but easy, and that's by design. We adopt a stringent hiring process to ensure that we employ only the best house cleaner in Nanaimo. Each applicant undergoes multiple rounds of interviews and rigorous background checks. By setting high standards from the beginning, we make sure that our cleaning staff is made up of individuals who are not only skilled but also reliable and trustworthy.
Expert Training Program
Once hired, every cleaner goes through our comprehensive training program. This is not just about teaching the basics; it's about instilling a culture of excellence. Our cleaners are trained to treat every home as if it were their own, ensuring attention to detail and utmost respect for your belongings. They learn about the latest cleaning techniques, usage of modern equipment, and eco-friendly cleaning solutions. Our expert training program makes us confident that we have the best house cleaner in Nanaimo on our team.
Customized Cleaning Plans
We believe that cleaning is not a one-size-fits-all service. Burley Cleaning offers customized cleaning plans to meet the specific needs and preferences of each customer. Our trained consultants will speak with you to understand your cleaning requirements and then tailor a package that fits your needs and budget. This personalized approach ensures that you get the most value for your money and solidifies our reputation as the best house cleaner in Nanaimo.
Quality Assurance Measures
Quality assurance is not just a buzzword for us; it's a commitment. At Burley Cleaning, we have a robust system in place to regularly evaluate and ensure the quality of our cleaning services. Our managers make surprise visits to verify the excellence in service that we promise to our clients. We also welcome customer feedback and use it as an essential tool for continual improvement.
Eco-Friendly Cleaning Options
We are committed to being a responsible business that cares for the environment. This is why we offer eco-friendly cleaning services. When you choose this option, your home will be cleaned using products that are as effective as traditional cleaners but without the harmful chemicals. This makes Burley Cleaning not just the best house cleaner in Nanaimo for you but also for the environment.
Flexible Scheduling and Transparent Pricing
We understand how busy life can be, and flexibility can make all the difference. Burley Cleaning offers various scheduling options to fit your lifestyle, from one-time deep cleans to weekly or bi-weekly maintenance cleans. Our transparent pricing means no hidden fees, providing you the peace of mind that you're getting the best deal from the best house cleaner in Nanaimo.
Exceptional Customer Service
The foundation of our reputation as the best house cleaner in Nanaimo is exceptional customer service. From the moment you contact us, you'll notice the Burley Cleaning difference. Our customer service representatives are trained to assist you in a friendly and efficient manner. And if you have any concerns, we address them promptly to ensure you are 100% satisfied with our services.
Satisfaction Guaranteed
We are so confident in our ability to provide exceptional cleaning services that we offer a satisfaction guarantee. If for any reason you're not fully satisfied with our cleaning services, we'll make it right. This guarantee reflects our unwavering commitment to excellence and underscores why we're the best house cleaner in Nanaimo.
Q&As
Is Burley Cleaning Equipped to Handle Large Homes or Only Apartments?
Burley Cleaning is fully capable of cleaning both large homes and smaller apartments. Our trained team and state-of-the-art equipment enable us to tackle cleaning tasks of any size or complexity. We offer customized cleaning plans for all types of residential spaces, ensuring that your specific needs are met. When you choose Burley Cleaning, you're getting the best house cleaner in Nanaimo, irrespective of the size of your home.
What Makes Burley Cleaning Different When it Comes to Reliability?
When it comes to reliability, we believe actions speak louder than words. Burley Cleaning uses cutting-edge project management software to ensure that every cleaning schedule is adhered to with military precision. Our cleaners arrive on time and complete the job within the estimated timeframe, ensuring your day isn't disrupted. Moreover, we offer flexible rescheduling options for unforeseen circumstances, making us the most reliable house cleaner in Nanaimo.
Can Burley Cleaning Accommodate Special Cleaning Requests, Like Pet Hair Removal?
Absolutely, Burley Cleaning understands that every home is unique, and so are its cleaning requirements. Whether you have high-traffic areas that need extra attention or furry family members who leave a little love around the house, we are more than willing to accommodate your specific cleaning needs. Our goal is to ensure that your home is not just clean but personalized to your preferences, making us the best house cleaner in Nanaimo for special requests.
Do You Offer Discounts for Recurring Services?
Yes, at Burley Cleaning, we value long-term relationships with our customers and offer discounts for recurring services. We provide a variety of packages that are both budget-friendly and tailored to meet your cleaning needs over an extended period. By offering these discounted packages, we aim to make it easier for more residents to experience the quality of service that comes with hiring the best house cleaner in Nanaimo.
How Do I Know My Valuables Will Be Safe During the Cleaning?
Trust is an integral part of our service model at Burley Cleaning. To ensure the safety and security of your home and valuables, all our cleaning staff undergo thorough background checks and are fully insured. We also offer a secure key-holding service, so you don't have to worry about being home during the cleaning sessions. These measures go a long way in building trust and confirming our reputation as the best house cleaner in Nanaimo.
There are plenty of options when it comes to house cleaning, but if you want the absolute best for your home, Burley Cleaning is the clear choice. Our commitment to quality, personalized services, and customer satisfaction sets us apart as the best house cleaner in Nanaimo. So why settle for less? Contact Burley Cleaning today to experience the pinnacle of residential cleaning services.