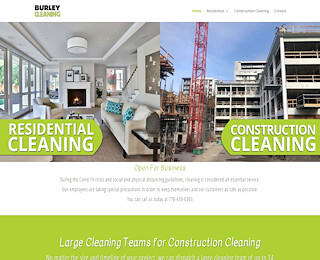 Are you looking for a company that can thoroughly clean your home? Burley Cleaning provides professional cleaning throughout the Victoria region. Now, by popular demand, Victoria's favorite moving company is not the local's #1 choice for cleaning.
Whether you're moving out of your apartment or are looking for regular weekly or bi-weekly cleaning, consider what Burley Cleaning can do to free up your time. As expert cleaners, Burley is ready to dispatch one of the 2-member cleaning crews to your Victoria residence to the care of the dirty work. Their teams work efficiently and thoroughly and charge by the hour; you'll find them to be one of the most affordable cleaning services in the area!
If you're looking for a few good reasons why you should call on Burley Cleaning, consider the following:
– All employees have been background checked, bonded, insured and properly trained to clean your residence
– They'll use eco-friendly cleaning products, not harsh chemicals
– There are no before or after travel charges associated with their local area of service
Team members are friendly, professional and fully dedicated to earning your repeat business, striving for 100% client satisfaction on every job. If you're looking for a complete move-in or move-out cleaning service in Victoria, you've found it. The Burley Cleaning move-out checklist consists of the following:
– Cleaning inside of ovens, drawers and racks
– Cleaning behind and under your heeled stove
– Cleaning refrigerator drawers and racks
– Cleaning behind and under your wheeled refrigerator
– Interior and exterior of the dishwasher
– Washing and sanitizing floors
– Hand wiping walls and door frames
– Wipe down and dust baseboards
– Dusting
– Removing cobwebs
– Drawers and cabinets (inside and outside)
– Dust and wash blinds
– Backsplash and countertops cleaning and disinfecting
– Sink cleaning and disinfecting and chrome shining
Burley Cleaning understands the stress involved with moving and wants to help take some of the pressure off of you with complete move out services. After you've moved your furniture out, they'll come in and provide a thorough, deep clean that will give you the best chances at getting your damage deposit back.
If you're ready to move in to your new place but find that it wasn't properly cleaned, contact Burley Cleaning to come out and transform your place into move-in ready condition. They are often able to accommodate a short-notice cleaning if the situation calls for it.
Hire 2 Burley Men Moving to complement your entire moving experience and take advantage of their exceptional cleaning and moving services with a complete Moving & Cleaning package within Victoria. Simply call 778-430-0303 for a free estimate and leave everything in the capable hands of their pros.
For the most affordable cleaning in Victoria, call the company locals have chosen to be the leader in the industry. Burley Cleaning will be there when you need them, to help with move-in and move-out cleaning, on-going cleaning and complete moving services.