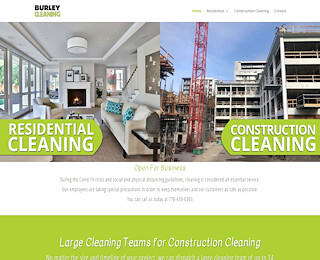 Burley Cleaning is the #1 company for professional cleaning services in Victoria. Our expert cleaners provide top-of-the-line services and a variety of cleaning options to accommodate every need. Whether your space is commercial or residential, and whether you need interior or exterior cleaning services, Burley Cleaning is the quality, affordable solution that makes the most sense.
If you would like to receive a quote for cleaning services in Victoria, or if you would like to find out more about Burley Cleaning, feel free to contact us online or call us directly at 778-430-3030. In the meantime, please take a closer look at our professional cleaning services that are available to the public.
Indoor Cleaning
Whatever indoor cleaning tasks that you can think of, our team is qualified, trained, and equipped to do them. From cleaning bathrooms to washing dishes and taking out the trash or making beds and changing the kitty litter box, Burley Cleaning does it all! We make dust, vacuum, clean fish tanks, and clean everything.
Outdoor Cleaning
Have you had a raccoon knock over your trash? Maybe tree limbs and leaves have fallen in your yard and now there is a mess? Maybe your windows are soiled and your gutters need cleaning? Perhaps you have dog poop in the backyard that you don't want to be bothered with? Whatever the case, Burley Cleaning can and will clean your home or business's exterior.
Windows and Gutters
Cleaning windows and gutters often requires climbing on ladders and having the right equipment. Rather than DIY, why not let our professional cleaners take care of your windows and gutters for you? Avoid injury, avoid mistakes, and avoid the stress. Leave it to Burley Cleaning.
Commercial Cleaning
Our commercial clients choose Burley Cleaning in Victoria because our professional cleaners are highly trained to work in commercial environments. Our services are available 24/7/365, so we can clean at night when your business is closed, or we can clean any time if your business is open 24 hours. Our mission is to accommodate you.
Move Out Cleaning
Even a small local move can be a stressful ordeal. Burley Cleaning's move out cleaning services are designed to minimize the stress that our moving clients have to deal with. We'll take care of all the cleanup work so that you can focus on completing your move and getting settled into your new place.
Construction Cleaning
Providing professional cleaning services on a construction site is a lot different than commercial and residential cleaning. Construction sites come with their own set of unique dangers and challenges. Burley Cleaning professional cleaners are trained and experienced in working with construction crews to provide cleanup services.
Contact Us
There is no need to DIY when it comes to basic cleaning tasks. Instead, you can outsource these tasks to Burley Cleaning and a nominal cost and invest your time in something more productive. We are here to take care of the menial stuff.