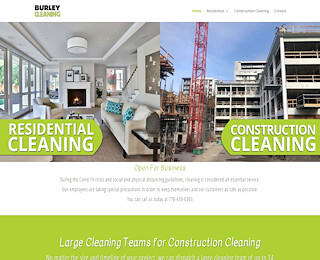 Burley Cleaning is a professional cleaner in Victoria that offers a full suite of cleaning services. Burley Cleaning features talented cleaners and affordable prices that everyone can afford. To ensure client satisfaction, our cleaners only use the best cleaning products and the best cleaning processes to ensure quality, safety, and efficacy. In other words, we do things the right way at Burley Cleaning.
Burley Cleaning's team of talented professional cleaners in Victoria is highly trained and capable. In fact, to be a cleaner at Burley Cleaning means that you will undergo ongoing training and continue to improve personally and professionally. Growth as individuals promotes growth as a company, and we can assure you that you will be happy with Burley Cleaning's professional services. We demand the best from ourselves so as to give the best to you.
Burley Cleaning Commercial Cleaning Services
Commercial cleaning jobs are different than residential cleaning jobs. Often, our commercial clients employ us to clean during hours when their business is open. Indeed, many of our commercial clients have 24-hour establishments. It takes a cleaning crew that specializes in working in an active retail environment to be able to safely and effectively clean a business while employees and/or customers are present. Further, we understand that your cleaning service is an extension of your business when they are in your establishment, so Burley Cleaning professionals are always uniformed and drive marked vehicles.
Burley Cleaning Residential Cleaning
Burley Cleaning provides the best house cleaning in Victoria, BC. We provide exceptional interior and exterior cleaning services to our Victoria neighbours, and we can perform a wide range of essential cleaning tasks, including house cleaning, gutter cleaning, window cleaning, and much more. Contact Burley Cleaning for your housekeepers and cleaning in Victoria.
Burley Cleaning Construction Site Cleaning
In addition to our professional residential and commercial Victoria cleaning services, Burley Cleaning is proud to provide professional construction cleaning services. We work with contractors and directly with homeowners/business owners to assist with construction site cleanup. Our team is fully trained and experienced in construction site safety and how to help without getting in the way.
Burley Cleaning Moveout Cleaning
Lastly, we would like to inform you about our professional move out cleaning services. When you are moving from one location to another, whether you are a residential or commercial client, the last thing you want to do is worry about the mess after the clean is finished. Burley Cleaning will gladly clean the place that you are leaving so that it is tidy, sanitized, and immaculate for the next occupant.
Contact Us
If you would like to speak with a professional cleaner in Victoria or receive a free quote, feel free to contact Burley Cleaning today and tell us about your project. We are available on a one-time basis, a weekly basis, or a bi-weekly basis. Contact us by one of the methods below:
Call us directly: 778-430-3030