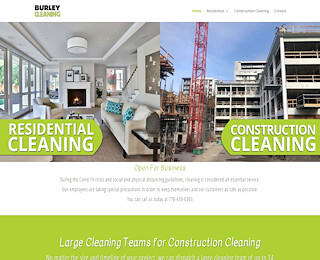 Best Cleaner in Nanaimo
When it comes to finding the best cleaner in Nanaimo, look no further than Burley Cleaning. We understand that your home is not just a building; it's a space where you build memories, a sanctuary where you seek comfort. Maintaining that sanctuary is what we specialize in. We offer a range of services from weekly or bi-weekly cleaning to move-in or move-out cleaning, all tailored to meet your specific needs. Our focus on quality service and customer satisfaction makes us second to none in the cleaner Nanaimo landscape.
Comprehensive List of Services: More Than Just Cleaning
While many may offer home cleaning services, the breadth and depth of what Burley Cleaning provides truly set us apart. Our offerings range from standard tasks such as dusting, vacuuming, bathroom and kitchen cleaning, to deep cleaning services that cover the insides of your appliances, walls, and floors. But it doesn't stop there. We also offer specialized services like construction cleaning, cobweb removal, and even cleaning and disinfecting backsplashes and countertops. If you're in need of a cleaner Nanaimo residents can trust, our diverse and comprehensive list of services make Burley Cleaning your one-stop shop.
Expertise and Skill: Where Quality Meets Reliability
One of the key elements that make Burley Cleaning the best cleaner in Nanaimo is our unparalleled expertise. Our team of highly trained professionals is not just adept at cleaning but also understands the nuances of maintaining different types of surfaces and materials. This ensures that you not only get a clean home but also one that is well-cared for. Whether it's ensuring the chrome in your bathroom shines just right or getting into those hard-to-reach corners, our expertise ensures you're getting the best service possible.
The Perfect Complement: Pairing with 2 Burley Men Moving
Move-outs and move-ins are stressful, but when you pair Burley Cleaning's move-in or move-out services with 2 Burley Men Moving, you're setting yourself up for a smooth transition. This bundled service takes the worry out of leaving your old home pristine for the next occupant and ensures your new home is ready for you to create new memories. If you're searching for a cleaner Nanaimo residents highly recommend for the most stressful transitions, this combination is the perfect solution.
Customer Testimonials: Reputation that Speaks for Itself
The cornerstone of our success at Burley Cleaning is our unwavering commitment to customer satisfaction. But don't just take our word for it; our numerous glowing reviews and testimonials affirm why we are the best cleaner in Nanaimo. Our customers frequently praise our reliability, attention to detail, and the exceptional customer service we provide. We believe that a happy customer is a returning customer, and our reputation in the community exemplifies just that.
Why Choose Us: It's a No-Brainer
If you're in Nanaimo and in need of cleaning services, the choice is clear. With our range of services, expertise, and an excellent reputation, Burley Cleaning stands out as the ultimate cleaning solution for your home. When you hire us, you're not just getting a clean home; you're investing in peace of mind. Our consistent quality and personalized approach ensure that your specific needs are met each time, every time.
Get Your Free Quick Estimate: Reach Out to Us
If you've read this far, it's likely because you're in search of the best cleaner Nanaimo has to offer. Look no further; just reach out to us to get your free quick estimate. Provide details like the number of bedrooms and approximate square footage, and we'll tailor a cleaning solution just for you. Contacting us is the first step towards a cleaner, happier home.
What are the benefits of scheduling regular cleaning services with Burley Cleaning?
Choosing Burley Cleaning for regular cleaning services offers you not just a clean home but a consistent standard of living that positively affects your health and well-being. By scheduling weekly or bi-weekly cleaning services, you never have to worry about the buildup of dust, germs, or clutter. Your home remains inviting and hygienic, providing a safe environment for you and your loved ones. Having a regular cleaning schedule also frees up your time, allowing you to focus on what really matters in your life.
How do I know I can trust the staff at Burley Cleaning?
When you invite a cleaner into your home, trust is paramount. At Burley Cleaning, our staff undergo rigorous background checks and comprehensive training programs to ensure not only skill but also reliability and integrity. We prioritize your safety and comfort at all times, and our team members are committed to upholding the highest standards of professionalism and discretion. You can rest easy knowing that when you choose Burley Cleaning, you're choosing a team that respects both you and your home.
What is included in a deep cleaning service?
A deep cleaning service from Burley Cleaning goes above and beyond your regular cleaning routine. This service is perfect for those looking to rejuvenate their home or prepare for a special event. We cover areas that are often overlooked, such as cleaning behind and under appliances, washing walls, and hand-wiping door frames and baseboards. We even clean and disinfect sinks and countertops while adding a shine to your chrome fixtures. When you opt for a deep cleaning, you're investing in a thorough, meticulous service that leaves your home feeling brand-new.
Is Burley Cleaning environmentally conscious?
Being environmentally conscious is not just a trend but a responsibility we all share. At Burley Cleaning, we are committed to using cleaning products that are not only effective but also eco-friendly. Our approach is to provide the highest quality clean while minimizing our ecological footprint. By using environmentally safe products, we not only protect the earth but also provide a healthier home for you and your loved ones.
Can Burley Cleaning handle specialized cleaning tasks?
Absolutely, our expertise extends to specialized cleaning tasks as well. Whether it's cleaning inside your oven, drawers, and racks or tackling your home's construction cleaning needs, Burley Cleaning has got you covered. Our services even include blinds dusting and washing, making sure every inch of your home is well-cared for. If you have drapes that need dry-cleaning, we can arrange that for you too. When it comes to specialized tasks, we pride ourselves on our attention to detail and our ability to deliver on our promises.
Your Ideal Cleaner in Nanaimo Awaits
So, if you're in the market for top-notch home cleaning services, Burley Cleaning is the name you can trust. From basic to deep cleaning, for weekly or bi-weekly arrangements, or for specialized requirements, we have it all. Our pairing options with 2 Burley Men Moving offer a seamless and stress-free transition between homes. Above all, our commitment to customer satisfaction ensures that you get the quality service you deserve. Your search for the best cleaner in Nanaimo ends with us. Reach out today and let us make your home the sanctuary it should be.